Am in the cloakroom at work and so have a little time and access to a computer so start with this one.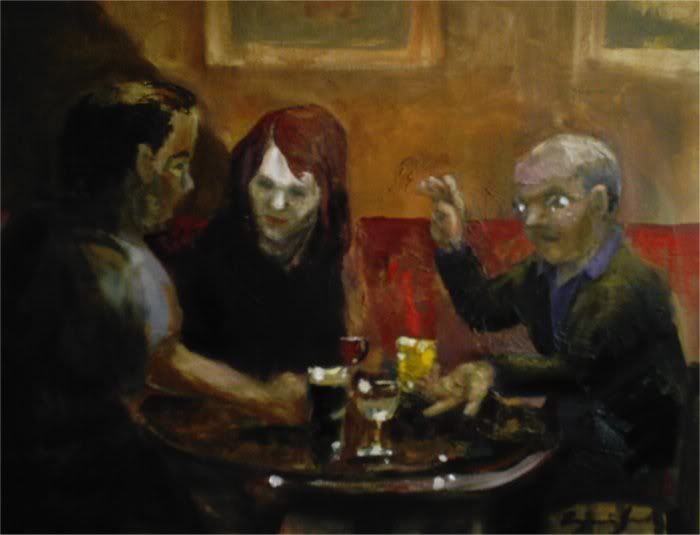 I think this looks better on screen than in life am pleased with how its quite free as well and the shadow on the left hand side. This is the kind of thing i realy want to be doing id like to develop it in to something that is actualy mine so when you see it you know but theres lots of things to work on yet. Colour is one thing ive noticed a lot of my work uses the same pallet which is ok but id like to take it some were else, were im not sure. And id like to have my figures more solid ,this is about 40cm by 50cm but i think if i did larger ones then i could stay free and relaxed and have a better level of detail and marks. Luican freud works quite big on some of his had a good book from the libary of him working in his studio and was intresting to see how he creates his paintings.
this is not the work i like of his but i picked this one as its in the gallery up the road from me and its the one i always see ,realy wish we had some more of his stuff here in liverpool he lived here for a short while actualy when he was in a the navy as a young man. And my coligies here at tate say that he came up one day when his retrospective was on just in the middle of the week unanounced.
This is the other one i did its the same size and much the same thing.
I think with this one especialy if it was bigger with better skin tones and strokes that it would make a great diffrence but it is what it is.